Toon's Kitchen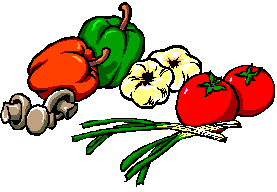 Grandma, he had often wanted to say, is this where the world began? For surely it had begun in no other than a place like this. The kitchen, without doubt, was the center of creation, all things revolved about it; it was the pediment that sustained the temple.
--Ray Bradbury, Dandelion Wine
My, how domestic of me.
A bit of an introduction, first. As a practicing Orthodox Jew, I keep a kosher kitchen. (Kosher: in accordance with kashrut, Jewish dietary laws.) What does this mean to you? Well, not a lot. If you don't keep kosher, you can pretty much ignore anything written here in color, as it doesn't apply to you. Unless you're curious. Or unless you're a vegetarian, in which case take note below.
If you do keep kosher, you can freely use the recipes below without worrying about having to find a good substitute for any non-kosher ingredients -- and you can take note of the color-coded Meat/Dairy/Pareve tags on each recipe.
Note to vegetarians, vegans, and lactose-intolerant: Anything labeled "Dairy" does not contain meat, and vice versa. Anything labeled "Pareve" contains neither dairy products nor meat products, but may contain eggs or fish products.
On using these recipes: Feel free! I insist only that if you pass them to other people, you let them know where you got it. And if you come up with an interesting variation on any of these, I'd be delighted to hear about it.
Some of the recipes below are the standard sort, the kind of structured recipe you find in most cookbooks. Some of the titles below, in fact, are from cookbooks; I have given credit where due (and links where possible).
Others are improv recipes, in the spirit of the old Russian proverb: "You can't spoil kasha with butter." Which means, more or less, that you can't spoil something good by adding something else good. The general rule with these recipes is flexibility. The proportions are never measured and the contents aren't fixed. If you're missing one of the ingredients (or even if you're not), try putting in something different. The final instruction in each of these recipes is: taste it and see what else it needs. Maybe add a new ingredient or three. Maybe fiddle with the proportions. Maybe run once around the kitchen and toss in whatever you find. This is the best kind of cooking to do with a friend, especially a friend with some culinary talent. Someone you can turn to and say "Here, taste this. What's missing?"
---
Soups, Starters & Side Dishes